DEEP PRAJWALAN BY CHIEF GUEST MR & MRS REDDY Seen with Dy Consul Mr D V Singh, Mr. Pratap Singh- Sewa
On November 11, 2016, the Atlanta chapter of SEWA USA held its annual fundraising gala banquet at Tadka Banquet Hall in Alpharetta. The event was attended by about 300 guests. Mr. and Mrs. T R Reddy, founder and owner of Powerline Inc. of Augusta, graced the event as its chief guests. Honorable D.V. Singh Deputy Consul of Consulate of India. Atlanta along with many other dignitaries of Atlanta attended the event.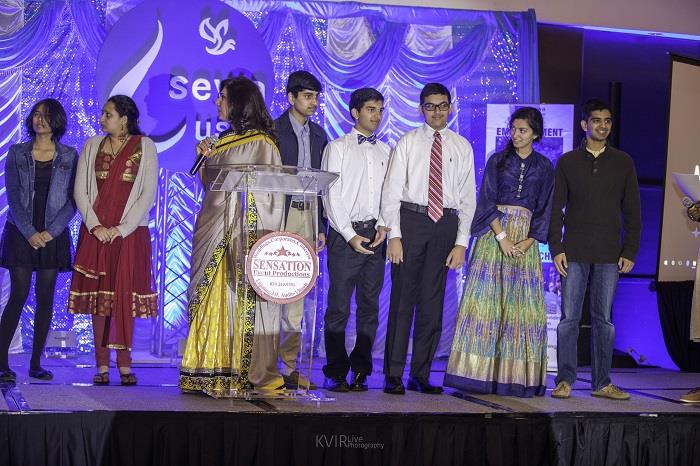 Presidential award for Volunteerism to Youths
The celebrations started with welcome note by Vikas Arora, Atlanta Chapter coordinator and followed by Deep Prajwalan along with our esteemed guests. After an auspicious start to the proceedings, the chief guests shared a few pearls of wisdom about their personal motivations for supporting Sewa and the stellar service it performs. Mr. Pratap Singh Chauhan, President of Sewa Atlanta Chapter, shared his intention of educating 10,000 children by 2020, a very admirable goal which was met with tremendous applause. The importance of imbibing SEWA bhavana was shared by Mr. Reddy and it struck a chord with everyone in the audience. Honorable D.V. Singh shared with the listeners, his association with numerous events SEWA Atlanta has been conducting ever since he started working with the Indian Consulate in Atlanta.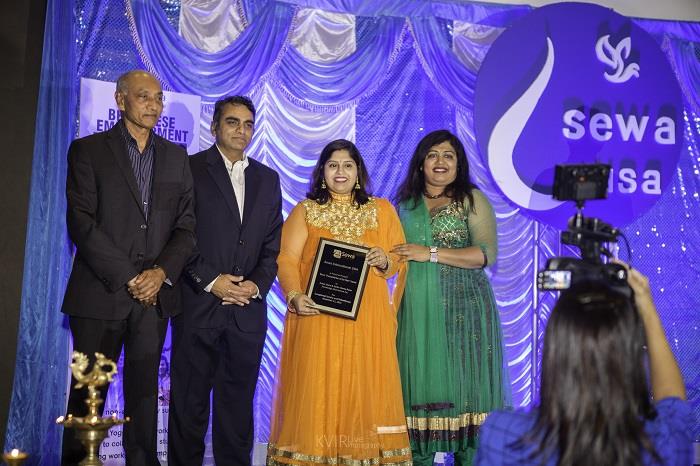 Sewa Humanitarian of Year Award Presented to Mrs. Sarita & Mr Ankur Rana of Knowledge Momentum
Deepa Luthra and Sai Santosh emceed the event with effervescent wit. After the chief guests shared their words of wisdom, the emcees introduced SEWA interns from SEWA Get Inspired, and SEWA Run events who won the President's Award for exemplary contribution to society. They were honored with certificates presented to them by Mr. and Mrs. T R Reddy. After recognizing the interns' excellent contribution towards SEWA's activities, Vivek Srivastav was invited to give a presentation on his work for the Bhutanese Empowerment Program. He enthralled the audience with facts and figures on the impressive inroads SEWA has made in the Bhutanese community towards education, health, family services etc.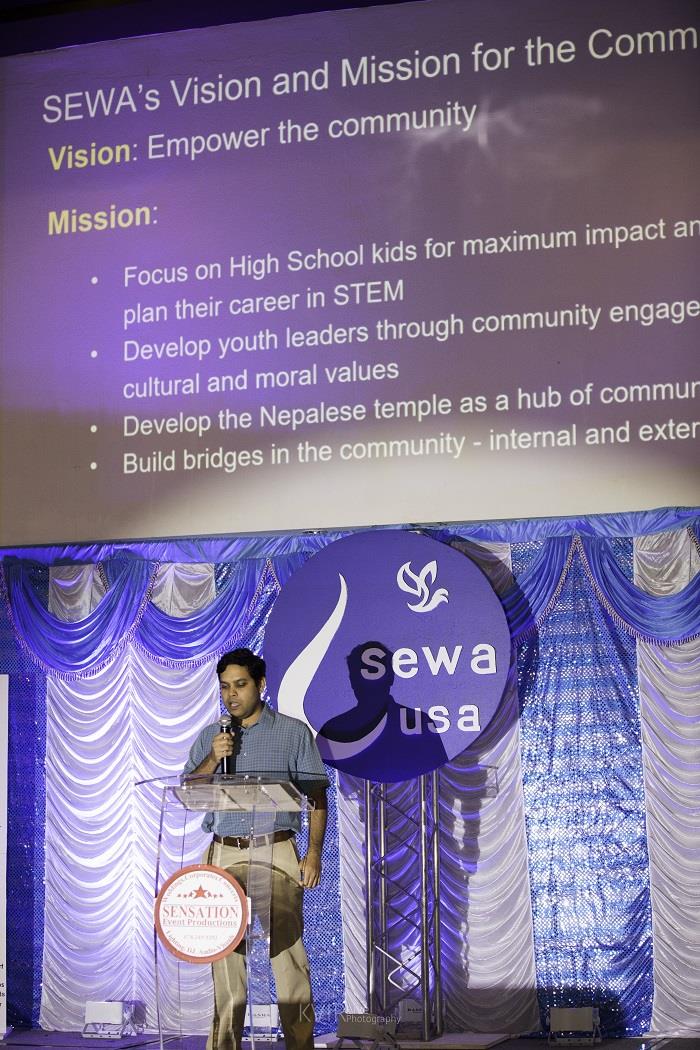 Sewa Volunteer Vivek Srivastva- Presenting Sewa's accomplishments in 2016
SEWA has always been committed to promote excellence in education amongst the Bhutanese community. Towards this goal, two Bhutanese students, Umesh Mongor and Padam Koirala were presented with scholarships for achieving excellent GPA's in high school.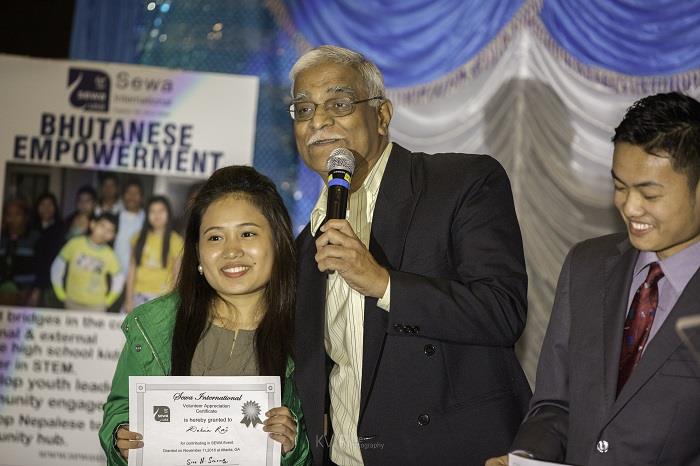 Sewa Scholarship to Bhutanese high school Students for Graduating with excellent GPAs
SEWA has recently increased its focus on Family Services for providing a support to victims of domestic abuse. Mr. Yogesh Thapliyal gave an engrossing presentation on the progress SEWA has made in the past year in this area. Another significant program run by SEWA is the Sponsor A Child program where SEWA, with its own network, and with the help of other co-operating institutions helps donors sponsor education, lodging, school and axillary expenses of under privileged children. Sarita Rana and Mayuri Singh delivered an informative presentation on the success SEWA has had in this area in the past year. The conclusion of the presentation was chosen as the appropriate time to honor Ankur Rana and Sarita Rana's initiative, Knowledge Momentum Inc. Through their organization, Mr. and Mrs. Rana have sponsored the education of 73 girls. Mr. and Mrs. Ankur Rana were presented with Sewa Humanitarian of the Year Award by Atlanta's philanthropist Dhiru Shah. Anil Dhamani's contribution towards sponsoring 100 children for 2017 was recognized and applauded greatly by the audience.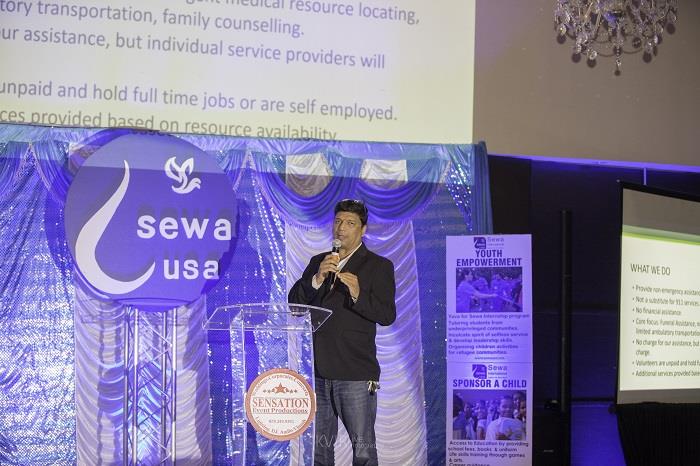 Sewa Volunteer Yogesh Thapliya- Presenation on Family Services
One of the recent SEWA initiatives has been working with grassroots level small and mid-range farmers. Milind Thakre gave an engaging presentation on the progress SEWA has made on that front. This was the last presentation of the evening. Dr. Prasad Garimala, an oncologist and avid supporter of Sewa, gave vote of thanks to all the dignitaries attending the event, and thanked the audience for their contributions towards SEWA's efforts.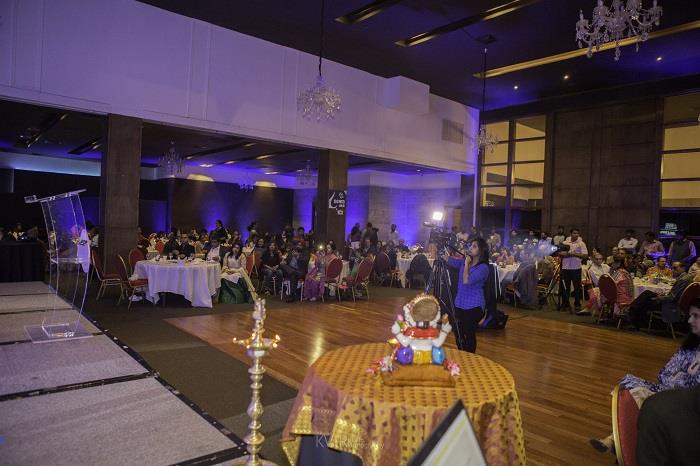 Full house
After Dr. Garimala's wonderful vote of thanks, the audience was entertained by artistic Indian and Western dances by four different troupes. Dinner was served during the dance performances, and the audience enjoyed scrumptious food while enjoying the tremendous display put on by artists. The dances concluded by 10:00 pm and the floor was thrown open for everyone to enjoy.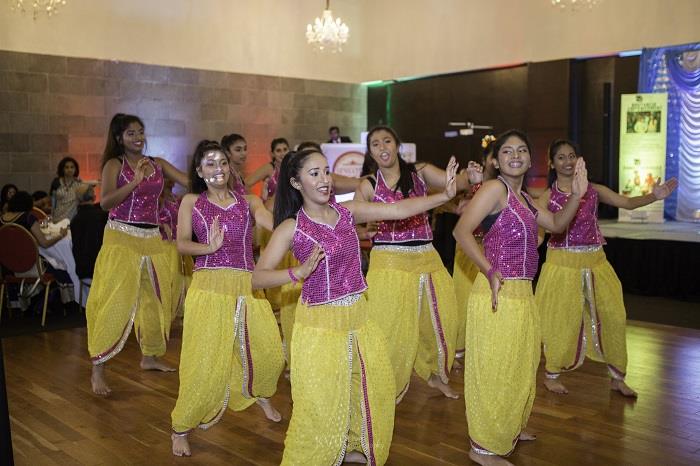 Lambert High School Dance Group Lush
The gala dinner was a massive success, far exceeding the expectations of the SEWA volunteers who had worked for many days before the event to ensure its success. SEWA succeeded in raising $78,000. This was largely possible due to generous donations from our sponsors, great and small who showed their big heart. SEWA Atlanta team is excited to continue spreading happiness around the world.
Photography by Viral Kothari